Tommy Watson | One of our most popular artists passed away
Much loved Aboriginal artist returns to the Dreaming Ancestors
A sorry business
We are sorry to say that of our most popular artists has passed away.
Tommy Watson ca. 1935 - 2017
He rises beyond descriptions such as Indigenous, Traditional and Modern.
His work transcends any of the myraid of adjectives that most critics serve up.
Tommy is simply Tommy. He paints with an explosive unparallel colour palette.
Kapi Piti by Yannima Pikarli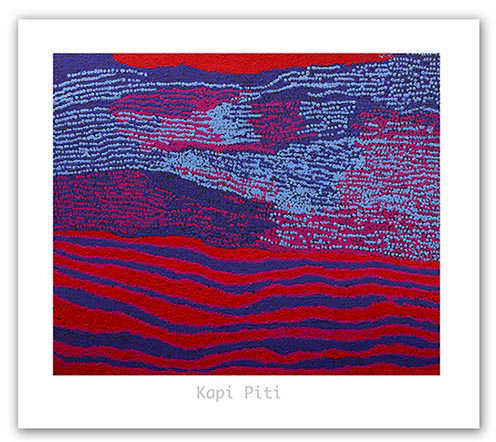 Yannima Pikarli Tommy Watson is one of the giants of
Australian contemporary art.
Tommy Watson was born around 1935 in Western Australia, near the junction of the border with the Northern Territory and South Australia and is a senior Pitjantjatara elder. His given names of Yannima and Pikarli relate to specific sites near Anumarapiti, located 75 Kilometers West of the small community of Irrunytju.
See all 8 hand signed limited edition prints on our web site.
He began painting in 2001, at the Irrunytju community art centre in 2001. Soon recognized as a leading light in the Aboriginal Art movement, he is held in great esteem by art collectors and art lovers globally.
Watson keeps the sacred meanings of his paintings private. He doesn't explain their spiritual meaning. His paintings can be described in abstract expressionist. The colours and abstract shapes are stunningly beautiful.
Tommy Watson painted with colours that are bright, explosive and sets the trend for modern contemporary art based in an ancient culture.
In 2015 Print Decor released 8 hand signed limited release fine art prints by Tommy Watson.
Please call us on 03 9576 1566 or email now if you would like to set aside one of these precious pieces of art.
With the celebration and opening of the Tommy Watson Art Series Hotel Tommy approved a series of prints. Each print is hand signed by the artist and is one of a number of 75 prints plus a limited number of Artists Proofs. (A/P's)