Art Exhibitions at Print Decor
WELCOME TO MALVERN'S AFFORDABLE ART GALLERY
Located in the centre of the art scene at 60 Glenferrie Rd, Malvern, 3144. ph 9576 1566
The Malvern Gallery of Modern Art above our picture framing and decor showroom hosts works of local artists. While our main focus is on Limited Edition prints we also have a selection of original art works.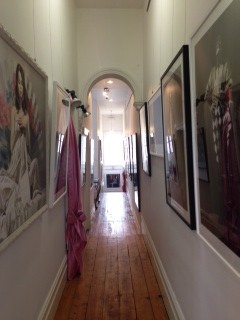 We are adding new artists to our gallery as an ongoing project. Please subscribe here >>> so you can receive updates and an invitation to our exhibitions.
Malvern Gallery of Modern Art upstairs above Print Decor Showroom
Art Exhibitions past and future
Our last exhibition was of the works of Jan Neil.
Jan is always creating her own new genres and her latest work with colour demonstrates the pure joy that emanates from this creative soul.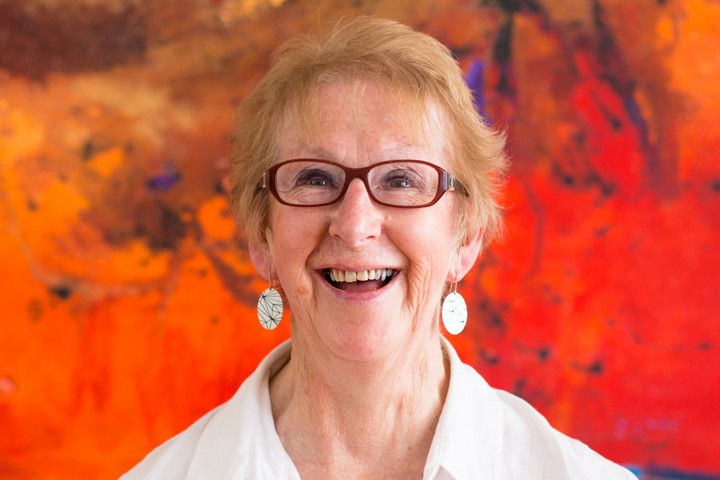 Melbourne Artist Jan Neil
I love "colour" that's an understatement. It doesn't always have to be bright, just appeal to my sensibility. Secondly, I love texture, the more the better, providing the image holds together. So with colours and textures everywhere I'm a happy individual, constantly thinking of the next adventures into imagery.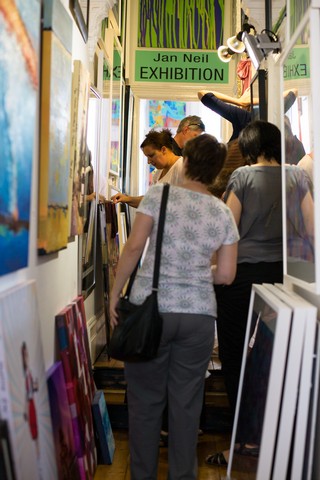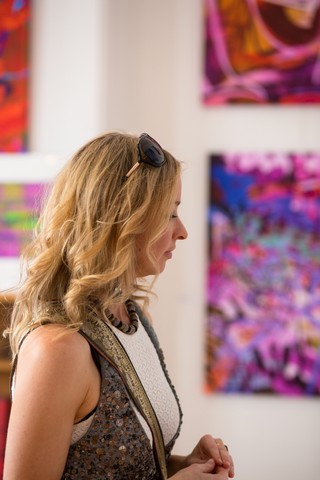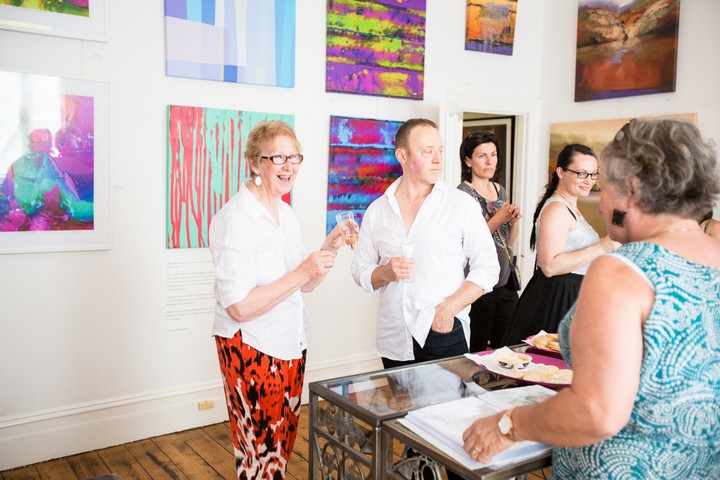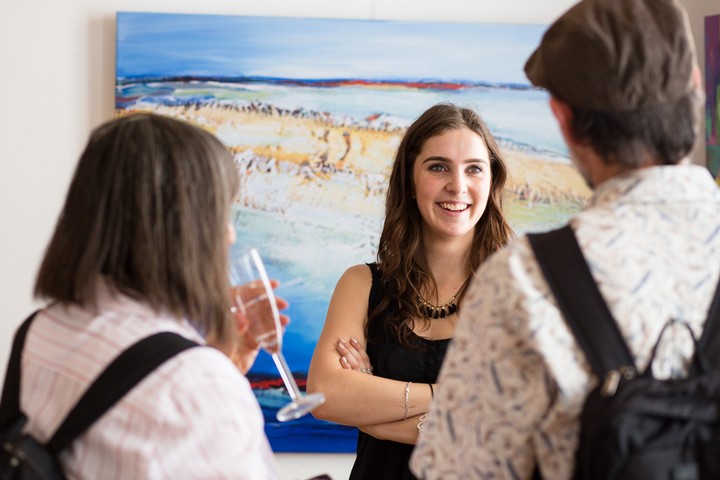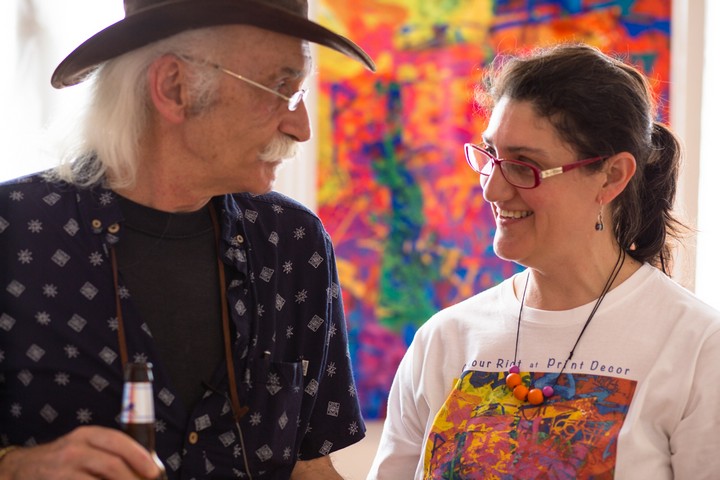 See all Jan Neil's images in our ON LINE store, click here >>>
SIDE SHOW by Gill Del-Mace was a wonderful event
You can see some photos and details below.
Thanks to Gill's and her publisher David's encouragement we were spurred into creating the art gallery above our already established picture framing and decor business in Glenferrie Rd, Malvern. We were honoured to have such a talented high profile artist to launch the venue.
Gill's full catalogue of Limited Edition prints are still available, including her most popular Knife Thrower. It was the first to sell out but we are pleased to say we have 2 copies for sale from previous customers.
Please call 03 9576 1566 for details or e mail to [email protected]
Many admirers of Gill's work were able to meet and chat with her. Gill has a wonderful wry sense of humour. A splendid time was indeed had by all. Below are some photos of the exhibition. Gill's Limited Edition Prints are available click here to see. >>>

Above: Opening night: Gill Del-Mace (left) with Connie, Lynne and Bernie
"Side Show" by Gill Del-Mace*
an exhibition of superb Magic Realism.
Enter the world of Gill Del-Mace. The entire Side Show exhibition will be available for viewing and purchase (framed and unframed) including some newly released signed Limited Edition prints and original works.
PRINT DECOR (gallery upstairs)
60 GLENFERRIE RD, MALVERN. 3144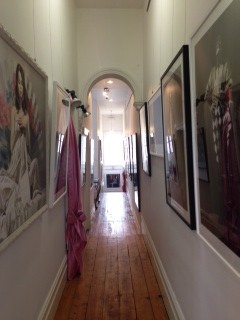 Gallery entrance hall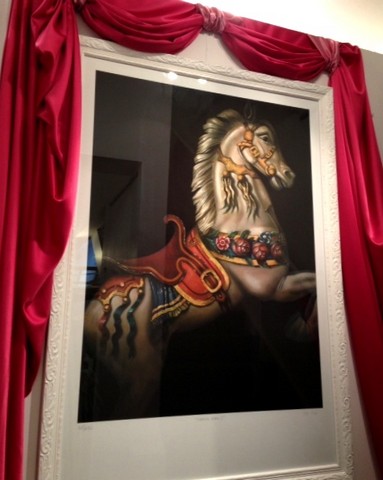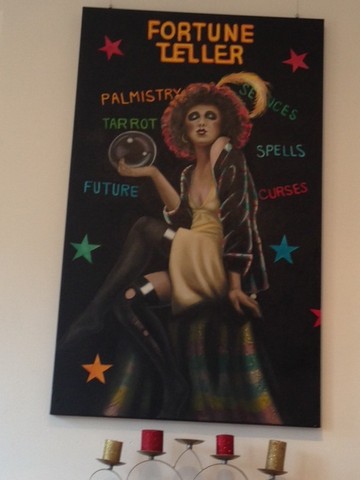 Above: One of the original paintings at the exhibition
Have a look at Gill Del-Mace on our web site. Click here >>>
*In 2006 Gill Del-Mace held her Side Show exhibition of her "Carnivale" series of paintings from the 1980's. It is with great excitement that Print Decor revisits the Side Show with the series of archival signed and numbered Limited Edition prints from the original Side Show Exhibition.
Worldwide Copyright © 2006 Gill Del-Mace, Melbourne, Australia. All rights reserved
HOME SHOW 2014
After a sojourn of 10 years Print Decor returned to the Herald Sun Home Show in August 2014. We launched Print Decor in 1985 using the Home Shows as our prime means of promotion and continued into the early 2000's. It was like attending a school reunion to be back in Jeff's shed in 2014.
If you have art works you think might work in our new gallery click here >>>