Picture Framing Tales
Picture Framing Tales
"Art consists of limitation. The most beautiful part of every picture is the frame."
― G.K. Chesterton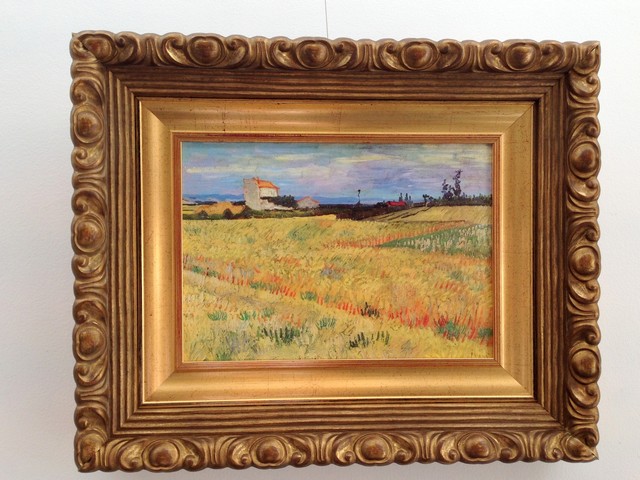 The Art of Picture Framing
Picture framing is something we evolved in to back in the mid 80s.
Back then a sophisticated picture frame was little more than a simple thin black aluminium certificate style frame. I remember our fist picture frame sample board, it was about 1 x 2 foot (that's 61 x 31 cm in today's measurement) and we offered about 8 different frame options. The industry rapidly expanded and last time I tried to count how many samples we had on display along our 3 metre high panels that stretch 20 metres, I got to 1566 samples and the phone rang and I lost count!
If you need custom picture framing by June 30 2019 please read on as there's a special offer...
I got to 1566 samples and the phone rang and I lost count...


"Lots of laughter, enjoyment, and entertainment and then begins the 'waiting game' for the final outcome … and it never fails to exceed expectation....
"I've used Print Decor for my framing needs for over the past 20 years. I really value their warm and helpful professional guidance. From a more personal aspect, the knowledge I've gained over so many pleasurable hours being guided through a plethora of options, has been a fulfilling and enjoyable experience. I've enjoyed endless discussions with Raphael over a wide variety of subjects, fun dissecting the alternatives, diverging off the subject and then arriving back at our original choice…! Walking into Print Decor is like a 'magnet', simply can't wait to find one of their qualified consultants and start proceedings, just love all their enthusiasm, passion and desire to satisfy the customer. Lots of laughter, enjoyment, and entertainment and then begins the 'waiting game' for the final outcome … and it never fails to exceed expectation.
"In particular I wanted to thank Rob for his keen artistic eye and expertise, as well as Bernie for recent framed works done."
S.H.
Here's a picture of Lynne with our framing production manager in front of the largest mat cutting machine in Australia (or so we're told).
Framing equipment has also grown. Back in the early days we went "up market" and purchased a manual mat cutting machine (the cardboard surround used in some framing) and it cut a cardboard mat up to 40 x 60 inches (100 x 150 cm), now there's a computerized machine that can take cardboard and other materials up to 152 x 264 cm and we can mount down art work with a new acid free roller press that takes paper 152 x 300 cm. I guess they'll just have to build bigger houses.
A tale of Marilyn Munroe a kelpie, and a caring picture framer
Here's a framing yarn from a long term customer who had the below precious photograph recently framed.
"Earlier this year I entrusted my most prized possession to the amazing staff at Print Decor.
"I am a bit of a crazy dog lady who owns a mad kelpie who along with my grown up children is the light of my life!!!!
"I was a little apprehensive about taking it and leaving it anywhere to be framed...
"Through my friends worldwide in the kelpie community I heard talk about an iconic picture taken in America in the 1960s by George Zimbel that was supposedly of a kelpie and I checked the internet to find out more about this picture and about George Zimbel.
"Once I found the image of this picture online I fell in love with it instantly and discovered unbeknownst to me in Australia that George is a world recognised documentary photographer and that one of his early opportunities was to photograph Marilyn Monroe in 1954 in her famous white dress for her film The Seven Year Itch. I managed to track down a copy of this picture (above) in a gallery in Texas and found that there were only 2 signed large prints left worldwide.
"It finally arrived and due to my love of it and it's value I was a little apprehensive about taking it and leaving it anywhere to be framed. For years I have had all my framing done at print decor so I tentatively took it in explaining how much it meant to me and how special it was. They advised due to the value of the picture I should use archive material and highest quality museum glass. I readily agreed and knew the picture was in good hands. Due to the nature of the materials required the framing process did take a while but I was informed of everything throughout the process.
"When the framing was completed I couldn't have been more happy with the results. It looks absolutely amazing. What impressed me the most though was the genuine excitement and joy everyone there had towards the picture. The picture brings me total joy every single day. Thank you to everyone there for the awesome job and for your understanding of how important the piece is to me." CS
The choices of picture frames and related products
From the glass that blocks UV to protect valuable works and shows the image with perfect clarity, to mat boards with metallic finish and other hand crafted surfaces which are in themselves works of art, to the Italian hand made artisan frames previously only stocked by high end European Boutique picture framers, the options are now available.
"Dear Print Decor, I just wanted to thank you and especially Elana for her help and recommendations as to how best to frame a beautiful but old and fragile fabric we recently bought in Rajasthan. We tried various styles while Elana waited patiently until stepping in with her thoughts and reasons why we might consider using her suggestions.
The result is outstanding and brings us joy each time we pass it. We have used Print Decor for many years and are never disappointed. Highly recommend."
Linda H
No job too big. I think this painting was close to life size!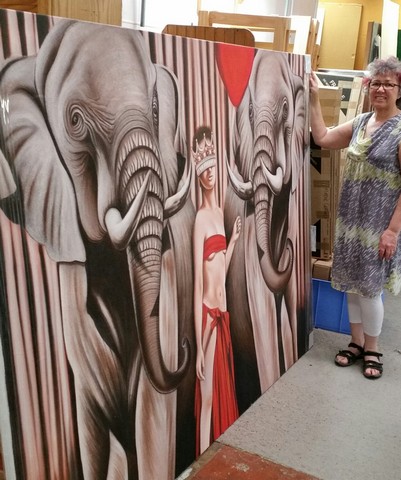 Well if you are still reading, you must be interested, please sign up as a subscriber, then follow the link and we'll send you a surprise discount voucher.
Thanks, Bernie@PrintDecor.