Interior Designers, Shopfitters and Architects
Working with Interior Designers, Shopfitters and Architects
The Block 2018 at The Gatwick St Kilda
We were delighted to help some of the contestants fit out their opulent apartments in the reality TV Show The Block.
Below are some of the mirrors and framed prints available from our product range that featured in this project.
The entrance to one of the luxurious apartments featuring The Modern Round Black Mirror we currently stock.
Picasso mastered the simplicity of the drawn line to subtly express beauty and so too has Gill Del-Mace as can be seen as the feature art work in penthouse girls Bianca & Carla's Gatwick guest bedroom.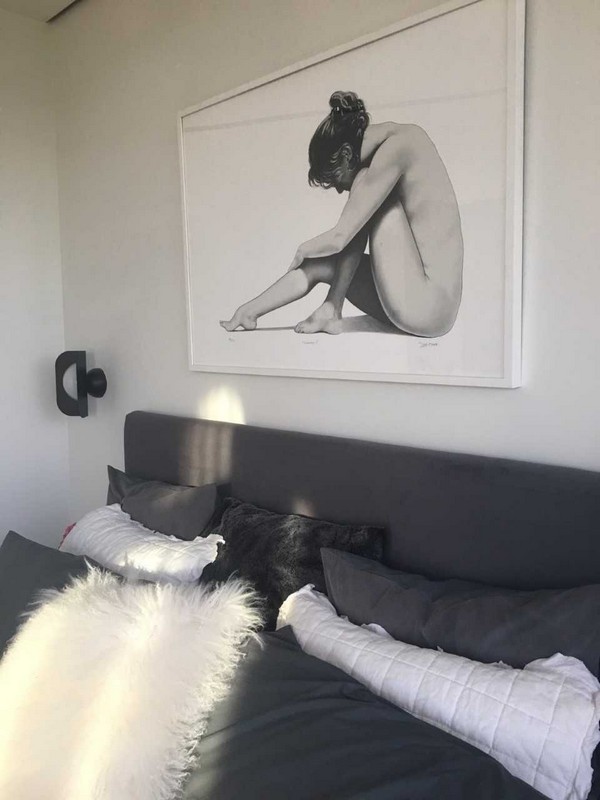 Bathrooms were a focal point in this years renovation of the Gatwick Hotel and we saw a number of our mirrors selected to augment the finished look.
Above: The pair of simple lined framed mirrors with curved corners take the edge off the rectangular tiles
Below: A single large round mirror is another effective way to soften the lines of a tiled bathroom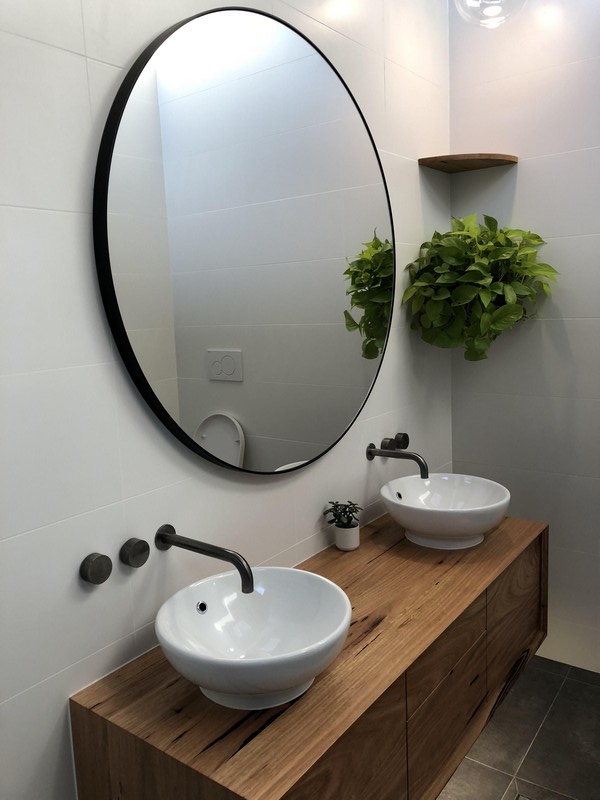 Bedroom Dressing Mirror, also known as the Leaner mirror as it stands on the floor and leans against the wall. Ideal if you are renting or you like the modern New York apartment look.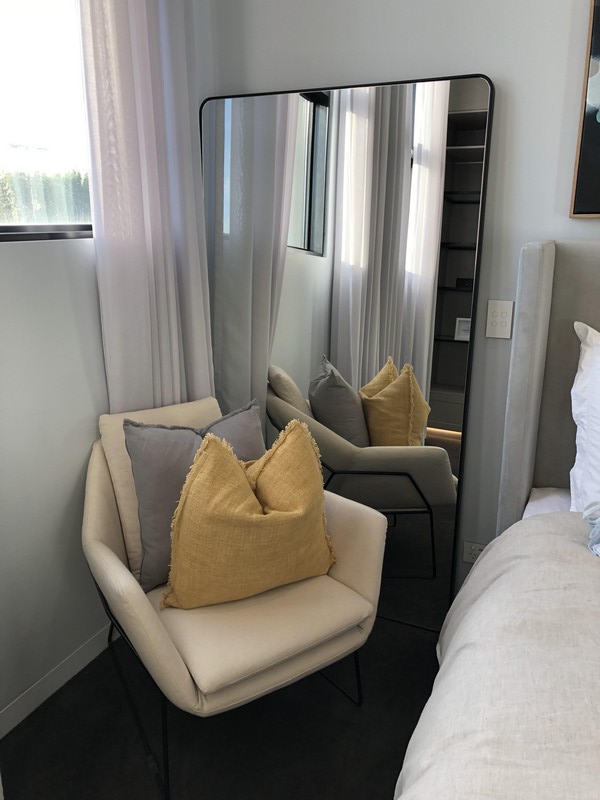 See more long tall mirrors >>>
The St Kilda mirror as we named it, in support of the football team, has come into its own at the Gatwick in St Kilda.
Shown below in 2 sizes, this mirror is available in about 20 sizes and styles >>>

Above:This mirror is 201 x 140 cm and has many size options down to 54 x 64 cm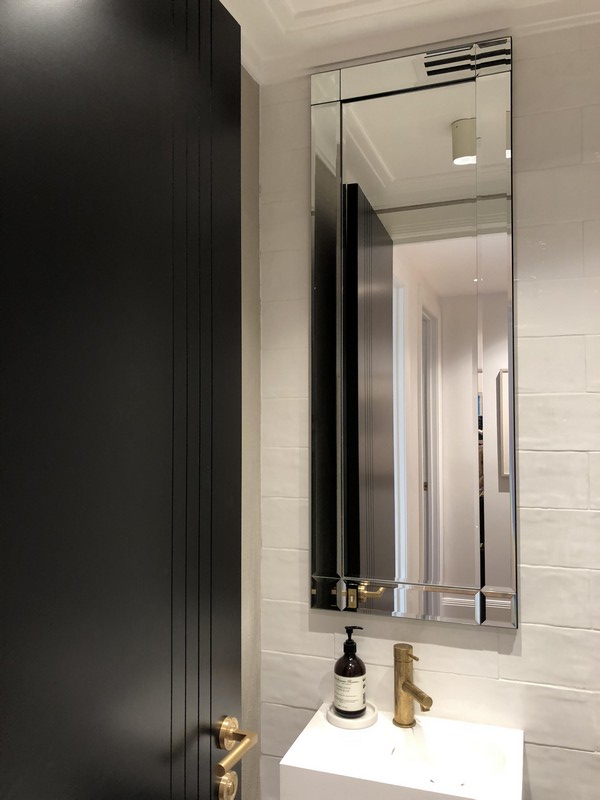 Shown below one of the large selection of modern art pieces available On Line and in our gallery in Malvern

Framed Mirrors Made to Measure
We can make frames and mirrors to virtually any size and design from our extensive selection of frames.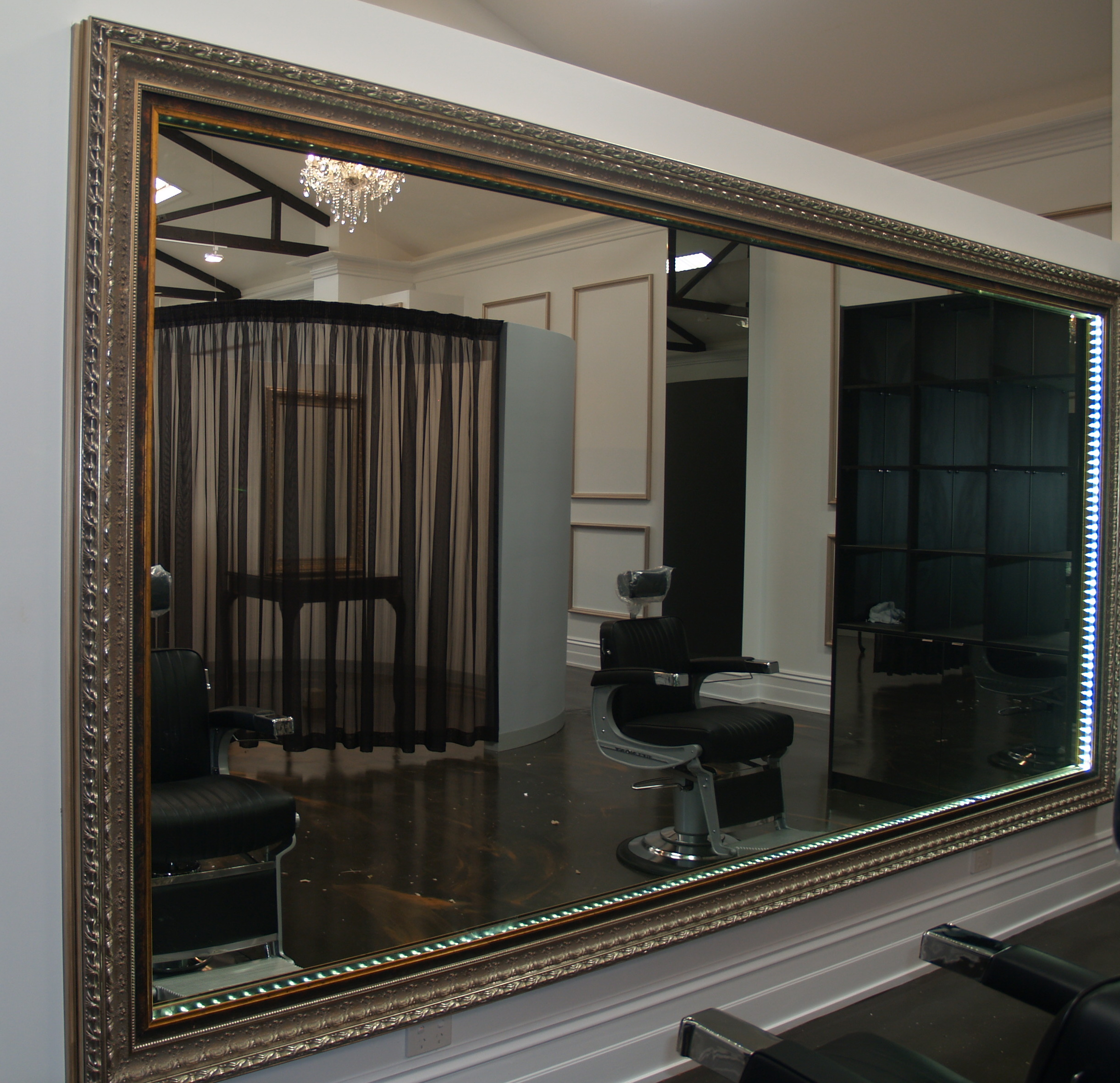 This mirror is about 3.5 meters long X 1.8 meters high and was produced for one of our commercial hairdressing salon shopfitting clients.
Our frames include inexpensive budget frames as well as more upmarket middle of the range through to our beautiful hand finished Italian frames. Per last count I got to 1566 frame samples before the phone rang and I lost count!! Per customer survey a gigantic selection of frames was a key factor in framing design.
COMMERCIAL PROJECTS & INTERIOR DESIGNER SERVICES
If you look through our Custom Framing section of this web site you will see many examples of custom framing and there are even a few shots of our work shop production area. We have one of the largest framing production work shops in Australia.
Add yourself to our VIP Interior Designer subscriber list (includes shopfitters and architects) to receive trade discounts. Click here >>>
One of our shopfitter customers needed 20 mirrors for a large hairdressing salon that was about to open. (See large mirror above.) The order was confirmed on Tuesday and we delivered 20 large custom made mirrors on site the following Monday.
If you are local to Malvern you can see the 1566+ frame samples in our show room. We have 2 of our supplier's catalogs available for you to download in the following links.
Click here to see a large range of Frames from Megawood Larson Juhl >>>
Click here to see a large range of Hand Finished Italian Frames from Bellini Mouldings >>>
Commercial Projects
Another client Peter Alexander Stores required 25 framed family photos of the pyjama King and family and pet dogs all printed and individually framed to make up a collage in store. "No worries" we said. "Can do" we said. "How soon" we asked. (We wish we hadn't-we thought.)
We had them designed, printed and ready to hang within about 2 weeks. Oh did I mention that was 25 individual frame sets for 4 separate stores, 100 frames in all!
You can see them in the Camberwell and Northland stores in Victoria. Below is a section of the Pyjama King's family photo album in store.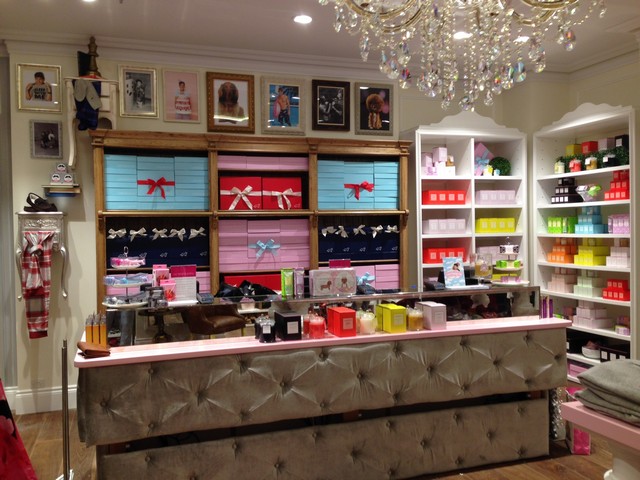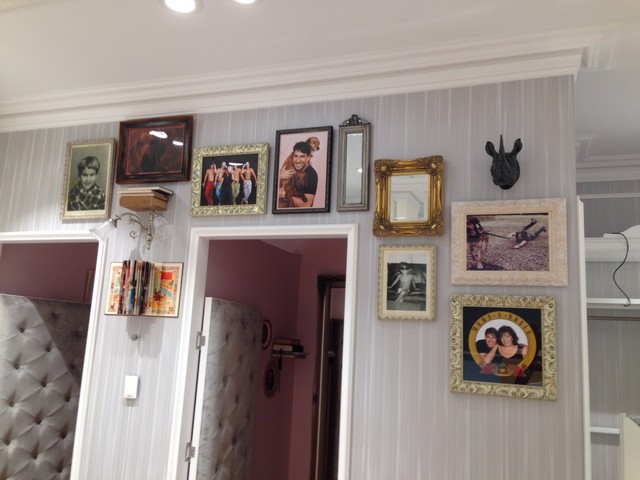 THE BLOCK SKY HIGH
How do you create a $1,435,000.00 apartment?
Well you could ask Alisa & Lysandra the winners of last year's THE BLOCK SKY HIGH.
Their apartment sold for that amount and the twin mothers took home the prize with the biggest margin above reserve.
Featured in their living room was the work of the late high profile artist Adam Cullen. The girls selected two of his works after staying in the Cullen Hotel. A frantic Google search on their i phones found Print Decor Gallery in Malvern and they purchased a signed limited edition print of Cullen's beloved cattle dog GROWLER. Painted in four colour variations, Magenta (featured on The Block), Orange, Green and Blue, Adam Cullen's take on modern art is renowned.
We heard on the grape vine that BLOCK judge Neale Whitaker (Editor in chief of Belle magazine) said "Growler was the best artwork he'd seen ever on The Block!" And so loved was the celebrity dog that show host Scotty Cam couldn't resist a copy for himself.
It is important to choose the right art work in creating an successful room interior. The twins made a point of saying the art work (Growler) set the theme for the living room. It can be a mistake to pick art only for the colours and style and thinking "they blend nicely".
Sure enough you wouldn't want the colour/style to be totally inappropriate, but you can pick a colour that compliments the room colours and take it to another dimension. This in a way is the purpose of good art-to break the mould of mediocrity and lead us to new inspiration.
Growler has been a big hit all across Australia, who could resist such an enthusiastic pooch with a cheeky look in his playful eye?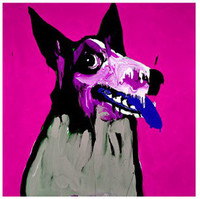 Metung Galley
On our way home from a stay on the NSW central coast in Narooma we called in to Metung near Lakes Entrance in Victoria. To our delight we found the Metung Galley. Not only delightful food and coffee but the decor on the walls was from Print Decor. A perfect ending to a wonderful get away in the country.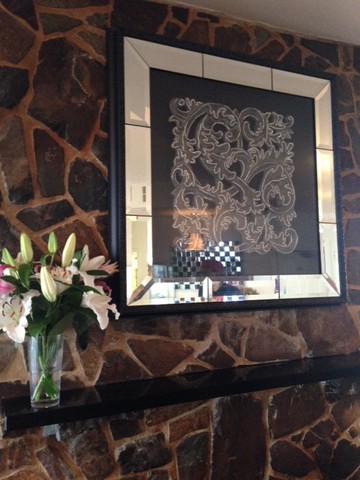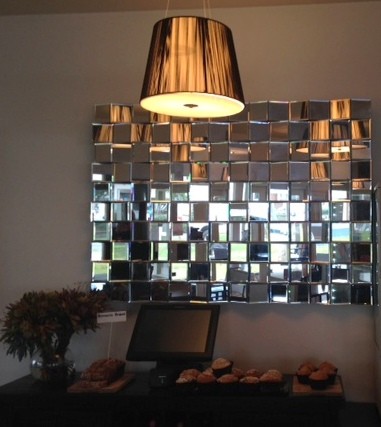 New Box Hill Hospital
"BOX Hill Hospital's new $448 million clinical services building was opened by Premier Denis Napthine this morning". (Local Leader newspaper)
Print Decor was found by the Health Department to provide uplifting works of art for the hospital. Bright and cheerful images were chosen from some of Australia's greatest artists, including John Olsen and Jan Neil, and new exhibiting artists, Lydia Ben-Natan and Kerry Armstrong. (see our web site ARTISTS).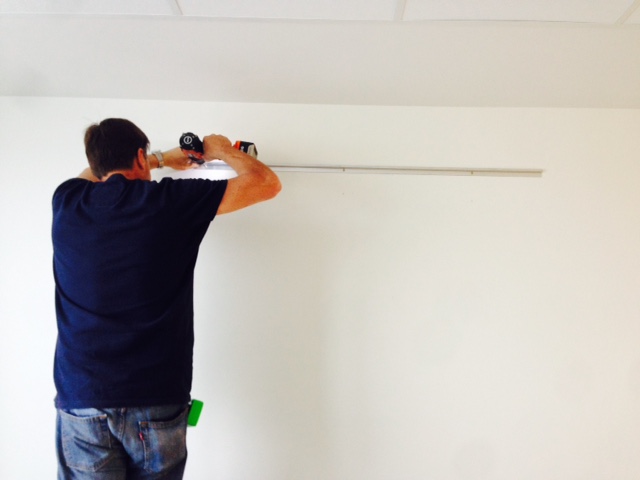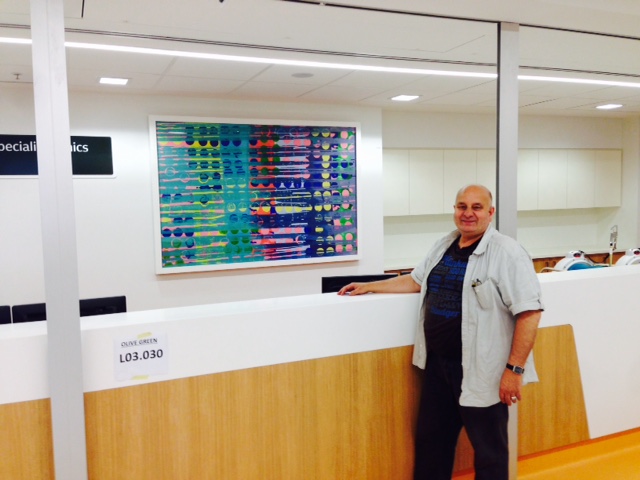 Installer using a heavy duty hanging system. A splash of colour to keep spirits high in the hospital reception area.
Below is a home that was prepared for sale. The Interior Designer selected a number of mirrors and framed prints and art works for the project. We heard it was a success!!
We are pleased to proudly showcase our framing designs including Key Framing Design Tips from Lynne who has been helping customers make their homes more beautiful since 1985. See CUSTOM FRAMING click here >>>