Get The Block Look 2023
We have been a proud supplier of The Block TV Show since 2013!
It all began one humble Saturday, when Alissa & Lyssandra came into our store looking for an artwork for their living space. They also came with a full camera crew and we got mic'd up! They immediately fell in love with Magenta Growler by Adam Cullen, the rest is really history. We've been The Block's biggest mirror supplier ever since. And have supplied them with some feature artworks over the years.
Our debut on The Block Sky High 2013 in Alissa & Lyssandra's living room, with the Magenta Growler.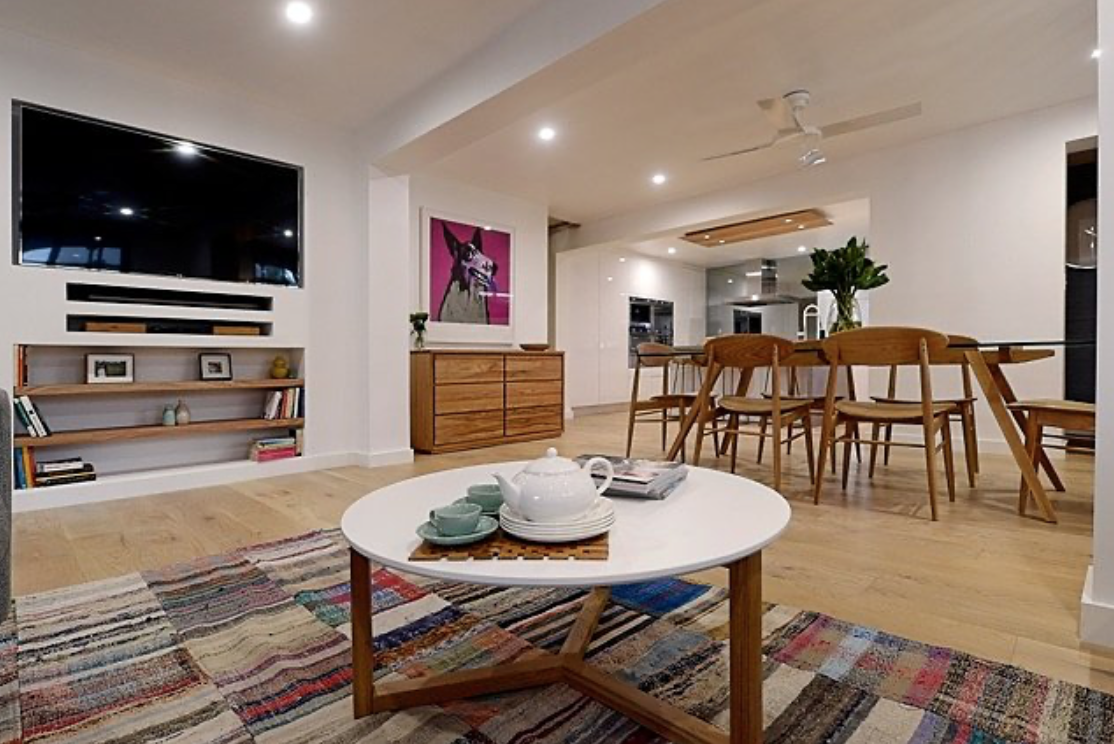 ---
The Block 2023
Fast forward 10 years and here we are, still featuring our products on the show in 2023. Our relationship with The Block hasn't changed, but the home styling certainly has. Here's what trends and styles have been prevalent.
This year on The Block! TV Show, we're seeing a lot of curved shapes and A-Symmetrical mirrors. There are a lot of organic shapes and earthy tones throughout the decor and styling. We've seen some of our artworks and mirrors popping up this year, with a lot of neutral tones and textured paintings.
We've been lucky enough to feature some of our products on The Block TV Show! As well as having many mirrors and artwork work that suit the theme of this years Block TV Show. Get The Block look with our featured products below.
SHOP OUR 'GET THE BLOCK LOOK' COLLECTION HERE
---
Our Matisse Gold Framed Print was featured in Kyle and Leslie's Guest Bathroom. This French style, retro lithograph art ties in perfectly with the curved shapes we're seeing this season.
It also comes as part of a set! Shop Blue Matisse and Orange Matisse Here.
---
Go Neutral with The Tranquil Coastline Olive Framed Canvas
As featured in Steph and Gian's Studio Space. This framed canvas print ties in neutral colours, with a touch of olive green. It adds some texture and a natural earthy feel to the space, without being too overbearing.
---
We've seen this mirror appear throughout the seasons on The Block TV Show, and for good reason!
This year it was featured in Lea and Ash's Work From Home Space. They used it in the 90 x 135 cm size in the grey tint. This was the perfect addition to create a stand out piece in their space.
---
We can't stop seeing these organic shaped mirrors. AKA Blob Mirrors, A-Symmetrical Mirrors, Curved Mirrors and Pebble Mirrors. Let's just say they fit right in with the shapely and curvaceous theme of the season. We have a few mirrors that fit the bill. See below for our shaped mirrors featured in and inspired by The Block this year.
---
Keeping Up With The Natural Theme
As you can probably see, there's an organic, natural theme throughout the decor we are seeing. A lot of neutral tones, textured pieces, nature inspired photography and curvaceous artwork, See below for more artwork inspired by this season of The Block.
---
We're excited to see what else is to come this season. So far, we are LOVING it, and also being able to supply the contestants with mirrors and art to style their homes. To shop the full range of our Block products. Follow the link below.