Decor Trends and The Block 2019
DECOR TRENDS & THE BLOCK
Is "Hollywood Glamour" the new trend? In the words of TV show's The Block judge Neale Whitaker 'Old Hollywood Glam' was THE LOOK of guest bedroom and en suite created by the show's contestants Mitch and Mark.
With the TV show The Block commencing its 15th season there is no doubt renovation and home environment is a strong interest item Australia wide.
What's the current decor trend? How are the trends germinated and nurtured? What's contemporary and what's soooo yesterday? and does it really matter?
Aside from old Hollywood Glam there are many trend modes, Modern, Contemporary, Minimalist, Industrial, Scandi, Traditional, Bohemian, Shabby Chic, Rustic, Glam, Hamptons/Coastal...the list goes on.
Thanks to the abundant media pathways we are continually exposed to "latest trending decor items" and by "we" I mean you, me and everyone who owns a mobile phone or a computer of any sort that connects to the international communication lines of the world.
Some of the other design trends emerging on the show included the above Beaded Black Framed Mirror feature in one of the guest bedrooms. A blend of art deco with a hint of goth this is one of my favourite framed mirrors.
"With this mirror behind me, I absolutely love, because it feels right there..." Neale Whitaker states in regards to contestants Tess and Luke for their Guest Bedroom in The Block 2019.
The above round mirror and the below oval shaped mirrors are constantly in demand. As we reduced the prices for our WINTER SALE these mirrors are literally rolling out the door - literally.
Print Decor has been associated with The Block since 2013 when Alisa & Lysandra the winning contestants of The Block Sky High came running into our Malvern gallery in desperate need of some edgy art.
They chose the below image of "Growler" the cattle dog in Magenta tones as a focal piece and styled their apartment around this art work. Since that season we have been delighted in providing Block contestants with art works and framed mirrors.
With the 2019 Block Show now in full swing now we are anticipating what may become the latest trends in home decor. Not that one has to follow the latest in trends as the most important factor is creating a space that reflects your aesthetic style which is in a way a reflection of you and your family. We love helping people make the sometimes difficult decisions in home decor, it certainly is an intriguing experience for all concerned.
MEMORIES
Below are some of the mirrors and art works that Print Decor stock that have been featured on The Block and are currently on sale.
Modern Circular Mirror Black
Featured on The Block 2018 Carla and Bianca's bathroom
We helped Courtney and Hans with some urgent framing for their 2nd bedroom
Clayton I by Gill Del-Mace
The focal piece in Bianca & Carla's "re do" bedroom
Modern Round Brass Mirror
Featured in The Block Gatwick in Norm & Jess's Hallway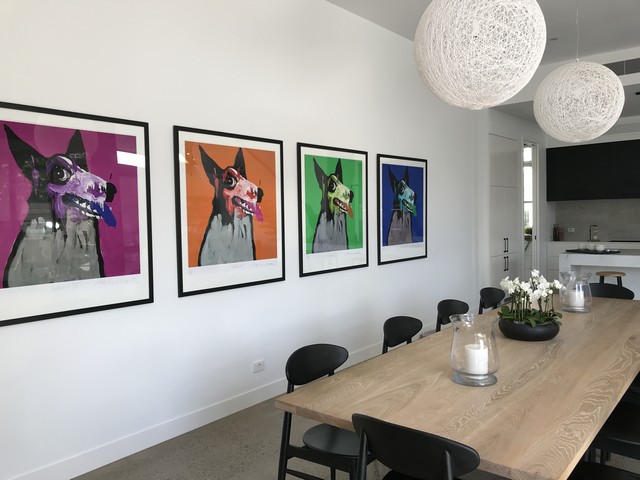 A selection of popular Mirrors and art work seen on The Block over the years.